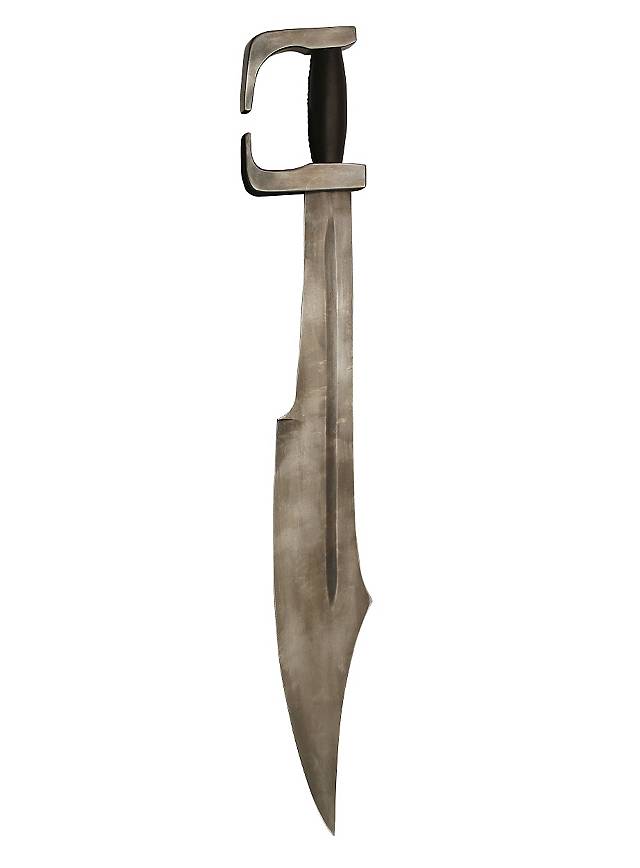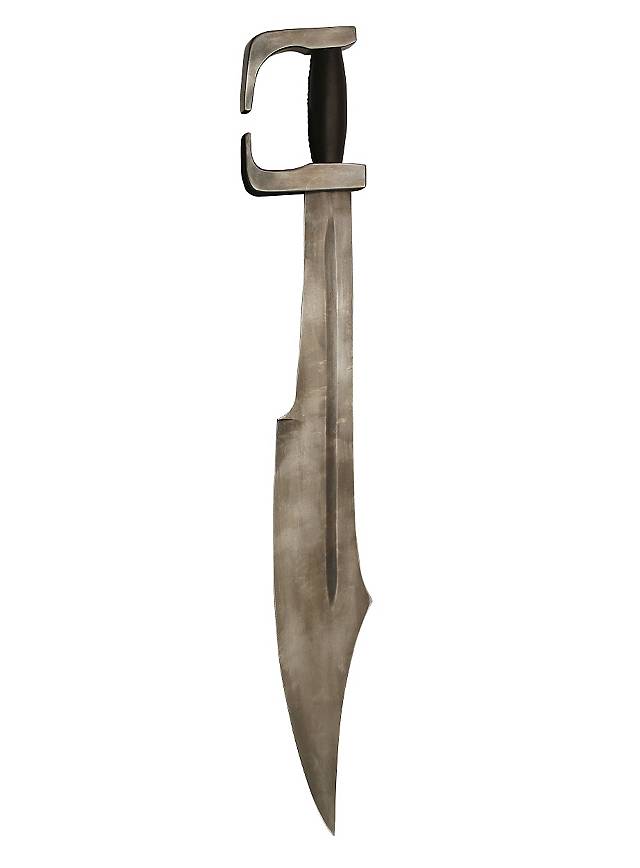 Frank Miller's 300 Spartan Sword
Included in delivery
Original Frank Miller's 300 Spartan sword, 3-piece
With sword
With scabbard
With baldric
Note
We will only deliver this product to a legal adult.
Product Description
Frank Miller's blockbuster movie "300" held as steadily in the upper ranks of the movie charts as the 300 Spartans did at Thermopylae. But if you were picking out the historical inaccuracies while watching this visually compelling, epic battle with the Persians, you didn't understand the movie's concept. "300" is not a historical documentation – it's a masterful comic book adaptation. Our aesthetically appealing replicas are the original licensed products to Frank Miller's "300." Of course with certificates of authenticity!
This splendid Spartan sword is not just a decoration or a padded replica for LARP. It is a fully developed, hand forged edged weapon which is delivered half-sharpened. Even without a sharp blade, it gives you the feeling that you can survive any battle. The single-edged sword is hand crafted of high quality 1095 carbon steel, has a riveted pommel, and its wooden grip is wrapped with leather.
Total length: approx. 76 cm
Blade length: approx. 61 cm
Weight: 1.35 kg
PLEASE NOTE: Delivered only to persons 18 years of age or older. Photo identification must be presented upon delivery.
You may also like:
Flintlock gun - Pirate
Replica Weapon
119,00 €
Deutsche Polizeipistole
Replica Weapon
99,90 €
Sabre - Diego
Larp Weapons
44,90 €
Sabre - Argallo
Foam Weapon
49,90 €
Short sword - Leonidas
Foam Weapon
69,90 €
Chain sword - Steampunk
Foam Weapon
89,90 €
Vintage Shotgun Pistol
Replica Weapon
59,90 €
Frank Miller's 300 King Leonidas Helmet
Helmet
389,00 €
Frank Miller's 300 Spartan Brooch round
Jewelry
24,90 €
Frank Miller's 300 Spartan Helmet
Helmet
319,00 €
Frank Miller's 300 Spartan Arm Guards
Armor Piece
89,90 €
Payment & Support
✓ Fast and secure payment
✓ Payment options incl. PayPal and invoice
✓ 24/7 service and ordering
Orders & Shipping
✓ Free of charge on orders of €30 or more within Germany
✓ We deliver worldwide
✓ Super speedy express shipping
Claims & Returns
✓ Free return shipping on orders of €40 or more within Germany
✓ 14 days right of return
✓ Easy and hassle-free
Reviews
Frank Miller's 300 Spartan Sword
(1)
5 out of 5 stars
back to top