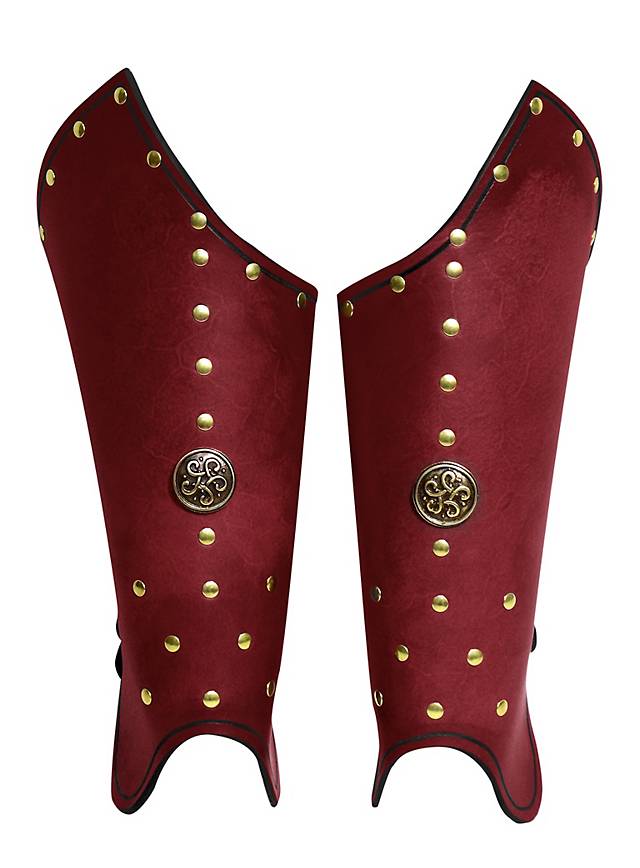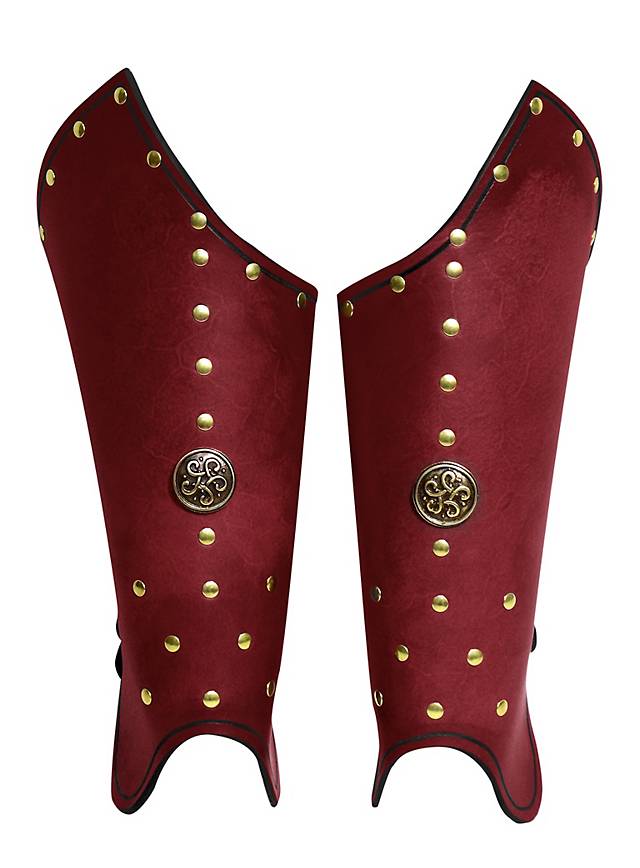 Greaves - Warrior Priest - Colour: Red Red
High-quality larp leather greaves from Andracor made of genuine, 3 - 4 mm thick leather, vegetable tanned and handmade in Berlin.
Included in delivery
One pair of red Rune Warrior Greaves
Product Description
Tried and tested LARP greaves with studding, a rune emblem and three sturdy buckles – handcrafted by Andracor from genuine, heavy grade leather.
Our Warrior Priest greaves are 42 cm long and 34.2 cm wide without straps.
With our Warrior Priest greaves you've already won half the battle. Sparkling studs lend the greaves a menacing look, making it loud and clear who wields the war hammer here. Three sturdy leather straps provide a secure fit and are fastened with metal buckles. The Warrior Priest greaves are handcrafted from naturally-tanned 3-4 mm thick leather mm and decorated with our signature grooving.
For tips on caring for your leather products, check out our article
here
.
For advice on customizing your leather products, check out our article
here
.
All Andracor products have been designed and handmade in Berlin since 1999. Strict selection of high-quality materials and experienced employees guarantee our consistently high quality level.
One pair of red Rune Warrior Greaves
Material
Genuine leather
Payment & Support
✓ Fast and secure payment
✓ Payment options incl. PayPal and invoice
✓ 24/7 service and ordering
Orders & Shipping
✓ Free of charge on orders of €30 or more within Germany
✓ We deliver worldwide
✓ Super speedy express shipping
Claims & Returns
✓ Free return shipping on orders of €40 or more within Germany
✓ 14 days right of return
✓ Easy and hassle-free
back to top